Buicks in the "Rough"
by George Nenadovich
Last Update 3-27-12

Yes, you can still find musclecars in the junkyard. Here is Kurt Peterson saving a 1970 GS455 from the crusher. Notice the wording on the windshield and pass. door "DO NOT CRUSH" More info to come as he plans to put this car back on the road!
---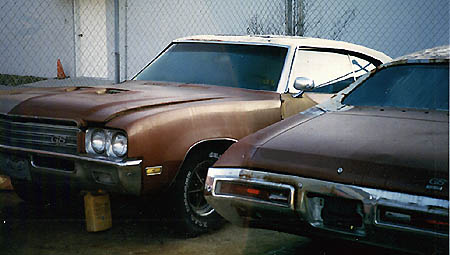 Here are a couple of Gran Sports found behind a gas station in Tampa. George eventually bought both cars for $600. What a deal! Almost not worth saving but after some deal making, the 70 GS 455 will be saved. The car on the left is a 70 GS455 and the one on the right is a 71 GS350. The 71 GS350 was used for parts to salvage the 70GS455 which was in an accident. The owners daughter was using the GS455 as a daily driver for college. George Nenadovich was trying to purchase the 71 several years prior to buying these two but the owner was never around even though he placed an ad in the paper for it. Price was $1500 and the car was/is rough. The only parts of the "GS" still on the car at that time was the GS hood, air cleaner and sport steering wheel so the owner of the GS455 bought the 71 for parts.
Here is a side shot of the 70 GS455. Notice the "el cheapo" non-factory sunroof. Also notice the attention to detail when the car was repainted. Nice work! The guy in the car is fellow club member Fernando Alvare who found these two cars and helped me haul them away. He was checking out to see how the roof was still there since no metal was left to support the vinyl top. The 70 GS455 was complete w/71 frt nose. It has the 455/TH400, buckets and console, p.bucket seat, wht int. This car will be restored by George Nenadovich sometime in the near future.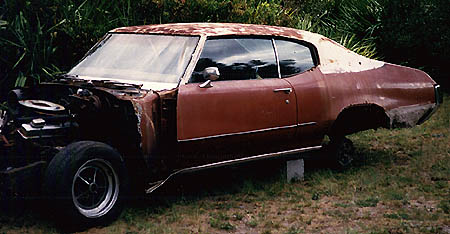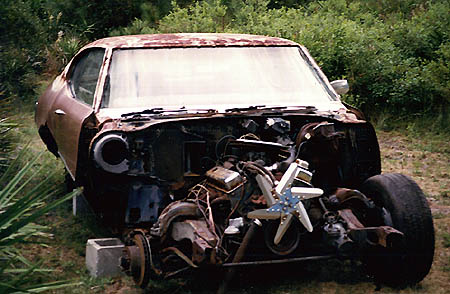 Here is what's left of the 71 GS350. All the parts went to good use including the Chevy engine, frame, disc brakes, rear end etc. Notice the car has a "little" bondo in the rear quarters. Actually from the rear window back, there was not much metal left. The qtrs were rotted away and there was no trunk to speak of since the rear window was leaking. The vinyl top on the car was no help either since the roof had more holes than metal.
---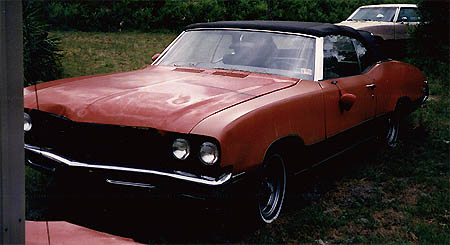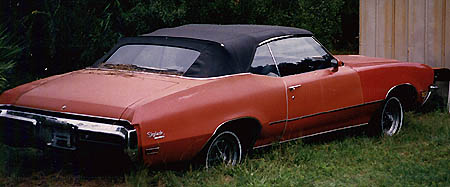 Here is club member Fernando Alvare's 72 convertible. This diamond in the rough was also found in Tampa and went for $1200. This one needed a trunk floor and the floors needed some new sections. Fernando did a body off resto on this car including new rear qtr skins, and all other body parts were replaced with good used ones from the local salvage yards.
See body off resto pics
---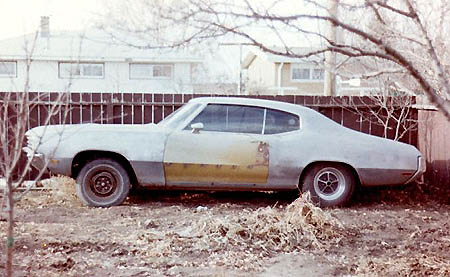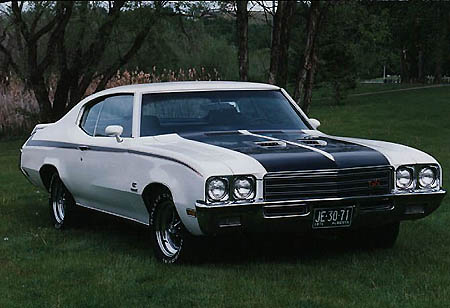 Here are Tim Rife's cars. 71 GS Stage 1. Purchased this car in 1986 for the price of $450 (Canadian)from a girl who used it to drive to college all the time.She didn't like it because the gas mileage was bad, and it didn't run
very well (turned out the timing was retarded about 15 degrees) I was 17
at the time, bought it because I liked the hood scoops. Didn't realize
what I had until the local parts man freaked when I told him what I was
buying parts for. I had some older friends where I worked at the time
who were very helpful with the project and guided me in the right
direction, such as buying new taillights, fenders, doors, clips, trim,
anything else I could get my hands on from GM at the time. It also
turned out that this car was bought new by the son of the gentleman who
was dating my grandmother at that time, which is really incredible since
the car first started life 1500 miles away 15 years earlier. It had no
rust, but the fenders had damage and you can see the door wasn't great.
The stripes were added by the dealer in 1971 before it was sold new.
I built the car myself over the next three years while making $8/hr,
finally "finished" it in 1989, and have been driving it ever since. The
"before" picture was taken after the engine was removed for rebuilding.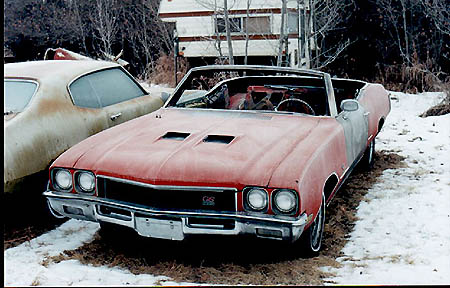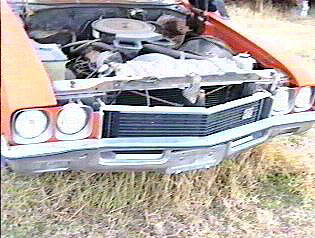 72 GS 350 convertible. Don't have any after pics yet, just the
"before" pics. Bought in Nov 2000, along with a 72 GS 455 (#'s
matching, car on the left). Convertible had interior fire in 1987, has been parked eversince, sometimes inside, sometimes outside. Although the weather hastaken its toll, it is #'s matching, and much has been preserved. Still
had the original battery cables, exhaust system, u-joints...you can
still see the light blue copyright lettering on the throttle cable. Saw
it sitting in a field but didn't know if it was a GS or not and forgot
about it until I found the 72 GS 455 which I intended to buy as a
project...it was for sale but the guy said I had to buy both cars, turns
out the other one was this convertible I had spotted months earlier but
ignored! Restoration is ongoing...at this point I have all the parts
needed except for a clean RH door and LH rear quarter, just a matter of
replacing, rebuilding, replating, restoring the components and putting
it all back together. The ongoing resto can be followed at Resto
I will send some pics of the 72 GS 455 sometime in the future. Not sure
if its getting restored or parted at this point. Some of the parts are
so hard to track down and I don't know if its worth it or not. Wish I
could just buy taillights etc like the Chevelle guys!
---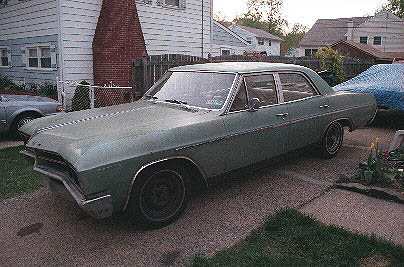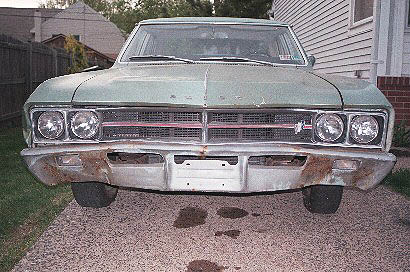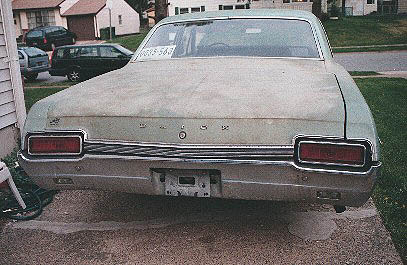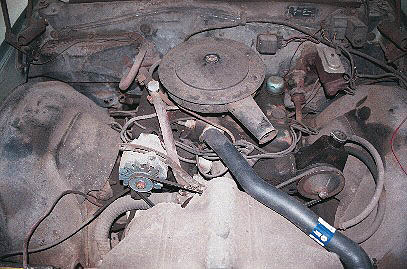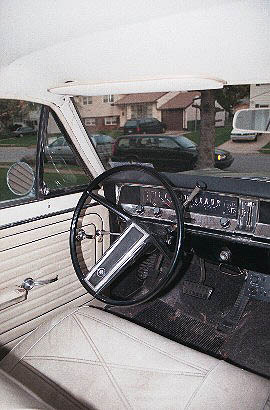 Here is club member Micke Burke's Sleeper Project--67 Special, 4 door. Plans are to clean up the body and give it a coat of somewhat 'subdued' paint, drop the 350 into it with TA cam, intake and headers and dual exhaust.
I bought it on EBay a few months ago for $177.50. I picked it up in Narbreth PA where it was at a tow lot. It had apparently been towed after sitting somewhere for several years. We threw a jump on it, and the little 225 that could puked out a mess of carbon and fired right up. Drove it home the 30 miles or so to Claymont, DE where it's been waiting patiently for it's replacement engine to become available.
---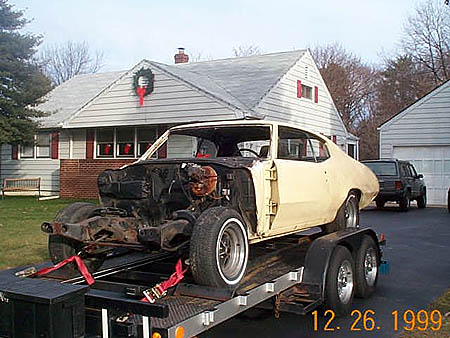 Here is club member Al Fiandanca's 70 GSX. Owned the car then lost it in a divorce and somehow his new wife found his old car again and bought it for him. What a wife! I hope there are more like her around! More info to come as the car nears completion!
---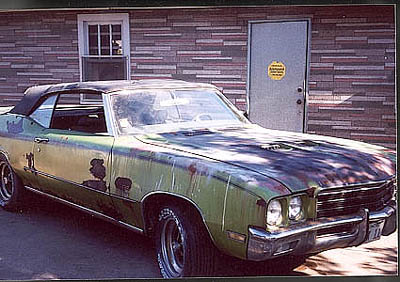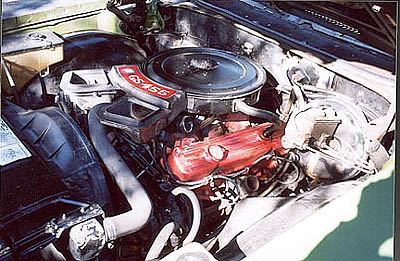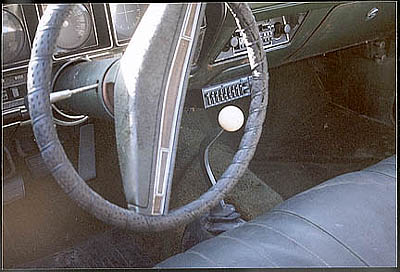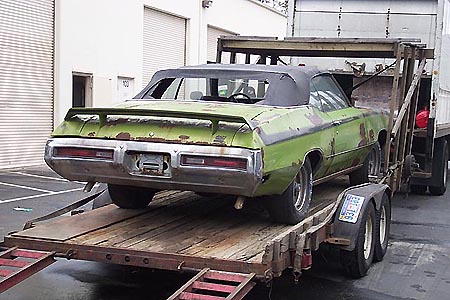 Here is another very rare car, 1971 GS455 conv w/4 speed. One of 18 made that year. Amazing how these rare musclecars seem to fall into the wrong hands and end up rotting away. This one was saved from any more Chicago winters and road salt. Recently purchased for approx. $3000 in Nov 2001. More info to come as this car gets restored!
---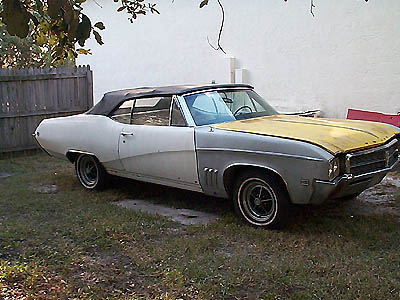 Here is a pic of a 1968 GS400 convertible. Car is a project car from Ohio. Car has the 400, TH400, boxed lower arms, rear sway bar, ps, pb, fact non-ac, bench seat, alum frt drums, 14" rallyes, Sold for $2600 and included extra pair of doors, decklid, frt bumper, taillights, gas tank and misc parts.
---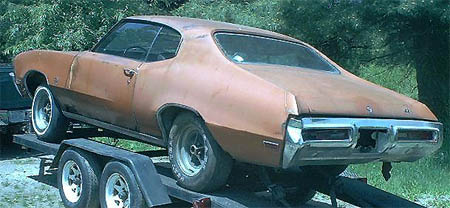 Here is a GS found in Connecticut that had been sitting in a guy's yard for years. Finally got the car for $700. 1971 GS455 4 speed car, was sitting for a long time but still had the numbers matching M21, 3:42 posi w/rear sway bar, power disk brakes, and some of the original engine parts in the trunk. The original engine had been blown, and when the block was found to be NG the car sat. I thought it was a neat car because it was a factory bench seat 4 speed, I believe it was one of 104 according to production numbers.
---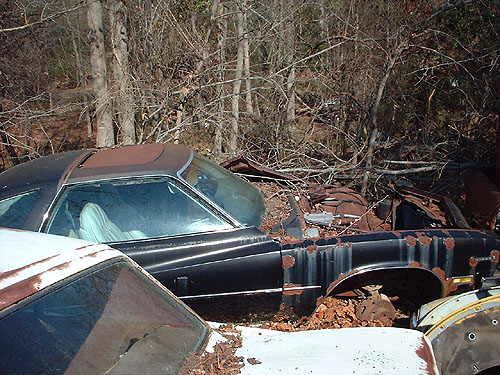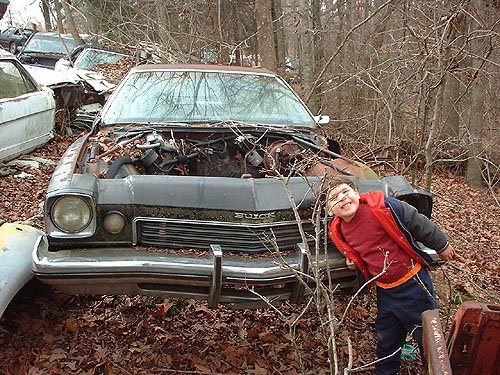 This is a factory 73 or 74 (?) Stage 1 car that has been sitting in a N.C. junkyard for decades. The car is loaded with factory options like sunroof,pw,pdl,pdisc brakes,console a/c etc. Factory black car with white interior. Before anyone gets excited, she's a goner. We did an ever expanding search circle around her until we found the original block flipped over in some weeds on a knoll above the car, with a huge hole in the side of the block.Trunks shot ,floors shot, etc. Even with all these problems the owner won't sell it. He told me his brother was storing it there until he decided to fix it up. Real Stage 1, real rough, real shame!!!
Update 7-11-03: Owner finally realized he would never fix the car and sold it to a local Buick nut! It will be restored!
---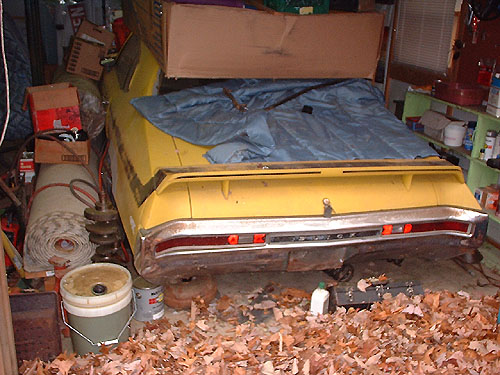 Here is another project car awaiting restoration. Car is a 1970 GSX, Saturn Yellow. One of 678 GSX cars made. Car has 455 w/TH400. Rumor has it that this car is located somewhere in the Southeast and is currently not for sale.
---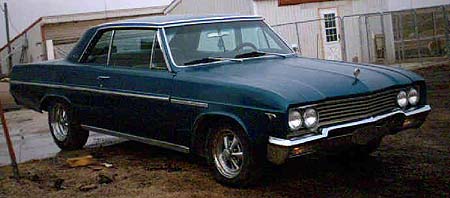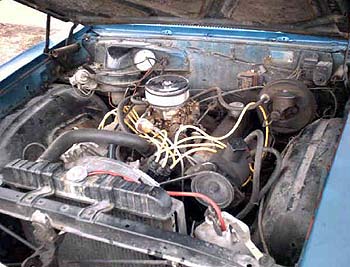 My uncle got this car a year ago and it didn't run but the guy he bought it from said it did when he parked it a few months before. He was going to give it to me but sold it to a guy who offered him 200 bucks for it (twice of what he paid for it!). Then he got it to run (turned out that the dip stick was shoved down into the oil pan so far that it just prevented the thing from turning over!) Anyway this guy gave it a tune up and fixed some minor stuff inside the car. . .literally tied up the mufflers to make them look good. Then I bought it for $500 and drove it home a few months later. I put about 2 weeks into gutting the car down to nothing. Then I located a parts car and brought it home. (I'll attach pictures of each car) I detailed the engine compartment. I've got big plans for this car some include a DVD player/monitors, lowering the car some, new paint job (obviously), undercoating the underbody of car…..and a 70's style interior) and many more. New ideas pop into my head every day then I expand on them and try to find a way to make them work. I'm working on a High School budget with a car that you can find parts for but NO body parts so it should be interesting. I'm also trying to get the car done this year yet! I have over 23 sites (and it keeps growing) the site I'm posting is just after I got my engine painted and everything is detailed in there.Nick Wellik More Pics
---
Ok, club member John Fritz is at it again! This guy can smell a Buick GS in a 2000 car salvage yard or in the deep woods or thick brush. Check out his latest find!!!!!!!!!!!!!!!!!!!!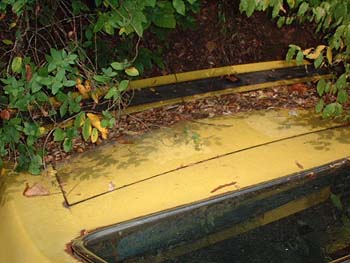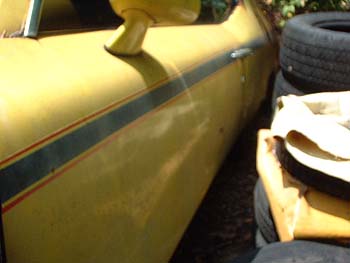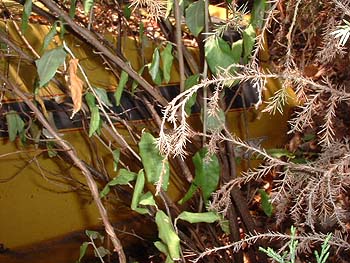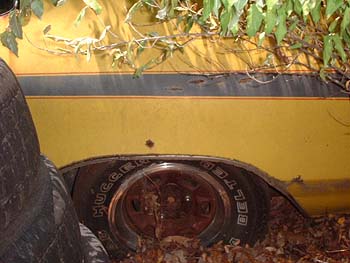 Yes this is a 70 Saturn Yellow GSX that now models as a garden trellis. Hmmm, what a shame. John may be able to work some magic and save this ultra-rare GSX from becoming plant fertilizer. John will keep us posted on what other finds he has "planned". This is amazing!
Update 7-11-03: Car and extra parts were sold! No info on new owner or purchase price. Hopefully someone will restore this car and it will reappear!
Update 11-21-03: Car is finally being stored inside. What happens now?? It is anyone's guess. At least the rusting process has been slowed.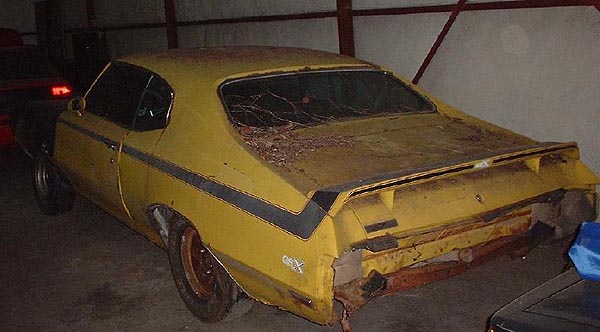 ---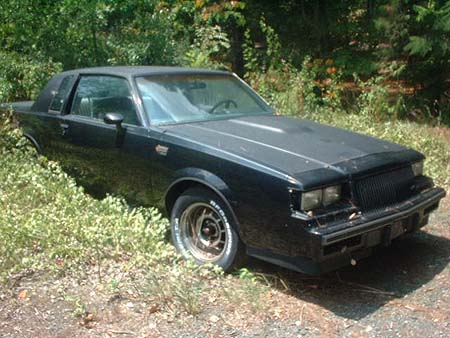 Ok, John Fritz found another one, this one is a little newer, 1987 GN that is parked in the wilderness somewhere in the Southeast!
---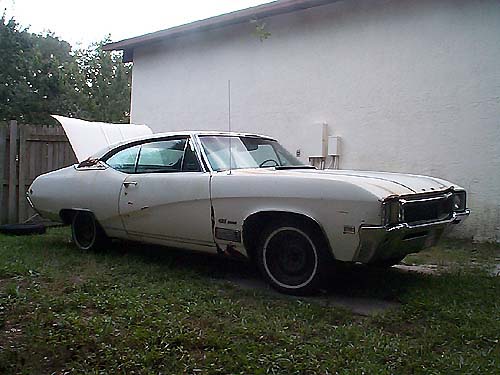 Here is a 68 GS400 with TH400, 3.42 posi, buckets and console, am/fm, speed-alert, clock, ps, pb, ac, alum frt drums. Car is from Illinois and the entire rear clip is rusted away. Car has very clean original interior. Car was parted out. Most of the parts went to use on the 68 GS400 conv pictured above.
---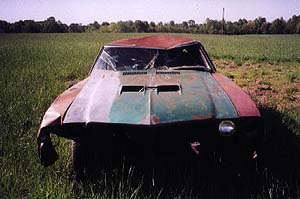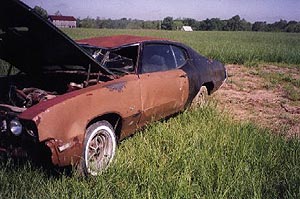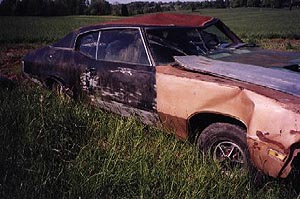 by Jeff Jarboe
They don't come much rougher than this! I picked up this 72 GS Stage1 for
$400, got the car home and discovered a fairly decent 71 GS grille on the back floorboard! Put the 71 GS Grille on E-bay and it brought more than what I paid for the entire car!
The car has had rough life indeed, needs practically everything. A tree fell
on it, many parts were stripped after that. Even a 350 has been transplanted into it. Sat for who knows how long. Car has the V-code VIN and has been verified by Sloan Museum as a true Stage1 car.
Car was originally black with black vinyl top. Came from the factory with a
few nice options such as N-25 exhaust, A/C, front disc brakes, black bucket
seats and console, bumper guards, 3.42 posi, etc. Most of these options are still in place on the car, except for the N-25 bumper, of course it's missing! I have picked one up for it though. In fact have most parts on hand to bring it back. I might be crazy but it will live again. When I will get started on it is anyone's guess. The car now sits in storage out of the weather!
---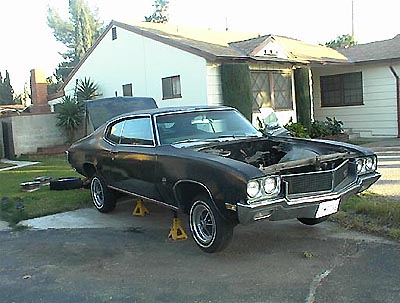 Here is someone's project 1970 GS455 that was not completed.
Club member Skip Ylhainen purchased the car for $3000, came with
extra parts as seen in photo plus the orig eng and trans not installed
in the car. Nice solid, clean car!
---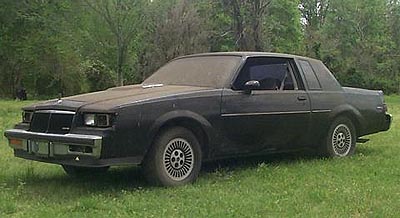 Here is an 84 T-type that Ken Wilson purchased for $350.
I bought this 1984 WH1 Regal T-Type in Groves Tx. while on a bussiness
related trip. I had been trying to get out of the shop all week, we were out of a crucial element of gunsmithing work, ammo, and things were getting really boring when I found an ad in a paper about a guy who was about an hour away who had the specific ammo we needed. Cheap!
When I got to the last street to turn on I saw what appeared to be a Grand National, in very rough shape. I wanted a GN for as long as I had known what they were, seeing one in this condition made me think my dream would come through. I prayed that this was my final destination, and it was. When I got out of my car I sat there for a minute evaluating it, before going to the door. The guy told me to come in through the garage and the garage door
opened. I almost fainted when I saw a freshly repainted beautiful 87 turbo t, and several 231 stage 2 turbo motors complete. I thought I was dreaming. After talking to Chris for about 30 minutes I asked if he wanted to sell
the car in his front yard and he agreed to sell it. I have now had the car for almost a year, and almost have it running. Unfortunately the $350 price did not include the 3.8 turbo but it will definately have street and strip
appeal with a custom built 450 Hp 350 (but may end up with a 430 wildcat keeping it all Buick) . I got a stack of recipts from all the modifications done to the car that stands over two inches high, along with the
original owners manual signed bay Kenny Bernstein "the Bud King" on the
original date of purchase.
Even though the car looked really bad it shined up real good!
---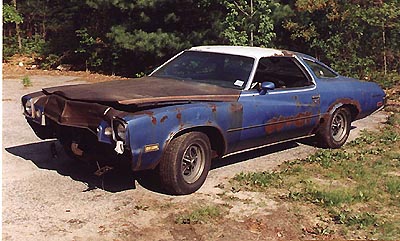 Thought I would drop you a line and tell you about my 73 GS Stage 1 4 speed. One of approx 85 Stage 1 4 speeds that year. The story goes that a
friend of mine went to look at a 1980 Cutlass that was for sale in the
paper. In looking at the Olds he spies the 73 sitting in the backyard. He asks the owner about it who tells him hes the original owner. The owner says he will sell the car for $450. Its rough to say the least. My friend buys the 73 GS instead! . After he gets it home, he calls me to gloat over his new purchase. He says to me that he is going to part it out. I ask him if he would be willing to sell me the car whole. He says it will cost me $750
(nice friend) . I hand him his $750 immediately. The car is matching
numbers thoughout and shows a little over 122,000 miles. I even found the
original build sheet behind the seat. After extensive mechanical work and
a 3/4 nose, the car runs and drives quite well. It has since run a best of
14.2 at 102.2. Out of all my GS's, this one is the most fun to drive!
Thanks Jason Cook!
---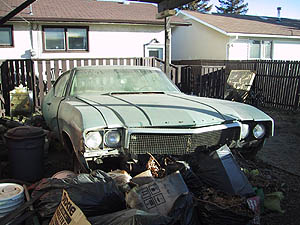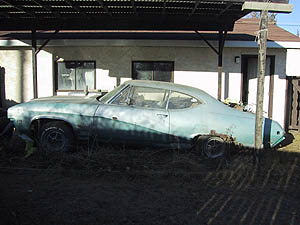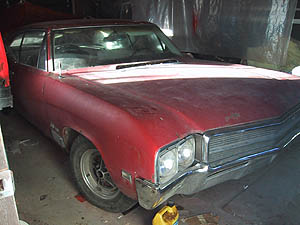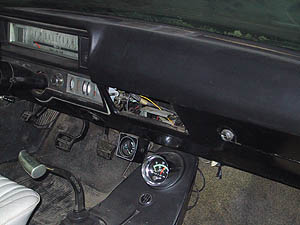 Here are two 68 GS 400 4 spd cars. Both were recently purchased by Greg Constable and are going to be restored. Work has started and more pics to come!
---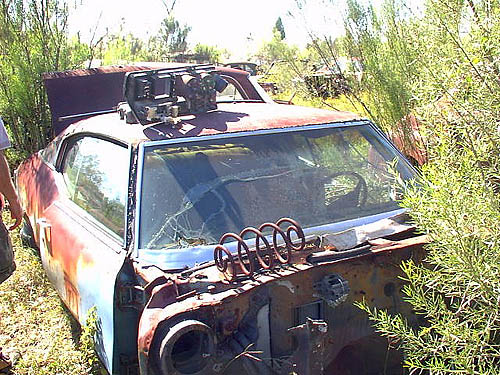 It is a 70 GS455 4spd Gulfstream blue with black vinyl top and black bucket interior. This will be picked up in a week or 2 to start a resto on. The car was bought by the father of the current in the late 70's early eighties. It has been at this location for that period of time and
was slowly parted. This Car had power disk brakes, Posi rearend, Rally pack,
AC( a long resto). More pics and info to come!
---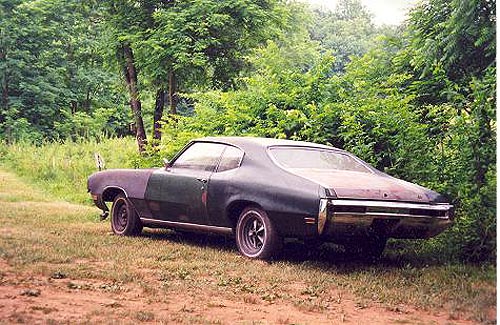 A true 44637 70 GS 455 4-speed that I owned about 10 years ago when I first started getting into the Buick GS. I bought it off a this guy in Maryland who I would say is an a-hole. Anyway, The original color was Sherwood green with I think was saddle wood interior??? Brown anyway no options at all. Had manual drum brakes!!! I got the car with the whole front clip missing, the wrong rear bumper, floors were pretty rusty and a blown 455 no tranny. On the plus side it had new quarters, a bunch of extra little parts, a 12-bolt rear and most of the 4-speed set-up was there. I couldn't really tell if it was a true 4-speed because most of the interior was missing and a HUGE cut-out was left where the stick would have come through the floor. I started the restoration by finding all of the missing parts, fenders, inner fenders, correct rear bumper and core support but being around 16 at the time I couldn't put forward the time and money and my family was moving, so I sold some of the parts and finally sold the car in 98 to some guy down South who is hopefully restoring the car. In 2003 my father and I bought a real nice completely restored 70GS455. I still to this day wished I kept the car. I would have loved to have had the opportunity to restore this machine.

-Steve Smith
---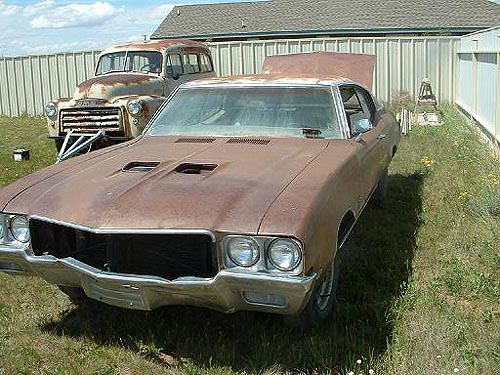 Sloan documented 70 Stage1 4 speed car. I got this car from SW Texas. The best I can tell he bought the car in 1986 and spun a rod bearing the same year. The car sat ouitside for 19 years till he figured he would sell it. Everything is numbers matching, but the carburetor. I got lucky it looks like the block wasn't hurt. The body looks worse than it really is. The worst part is the trunk floor and the passenger side back window. It has a date with the body man in mid March. Kraig
---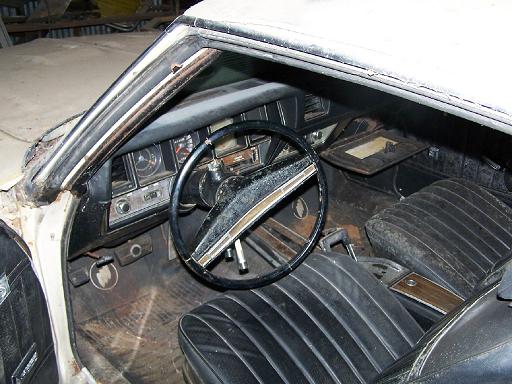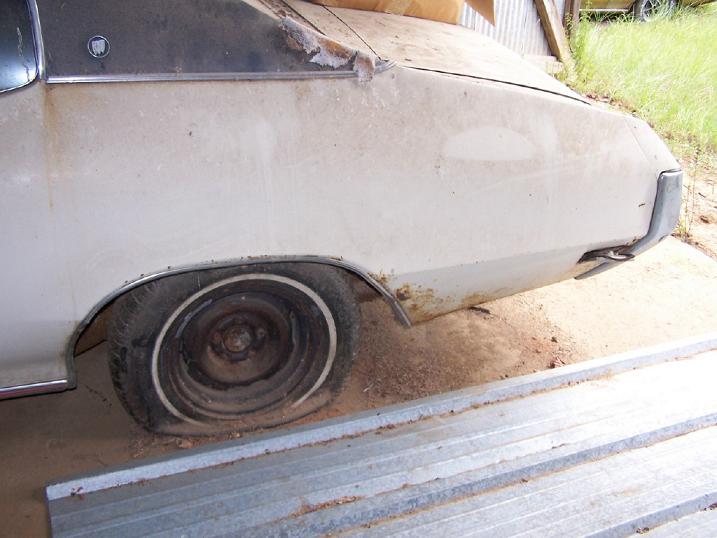 Notice another Skylark in the upper right hand corner of this pic!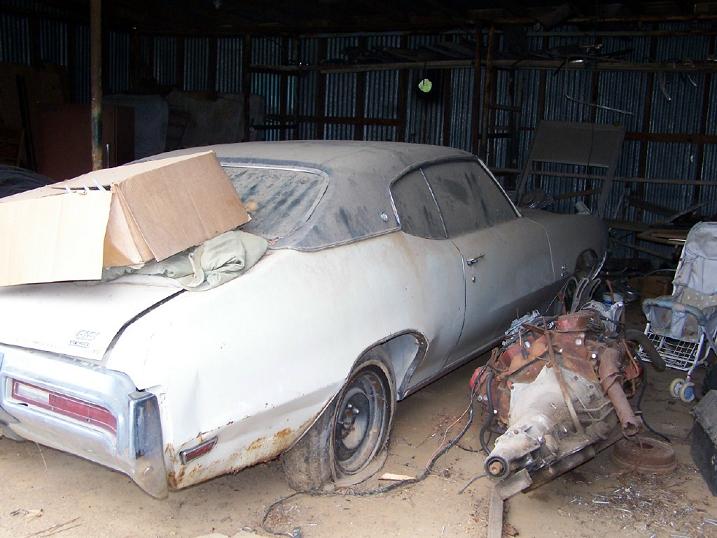 71 GS455 loaded with all options!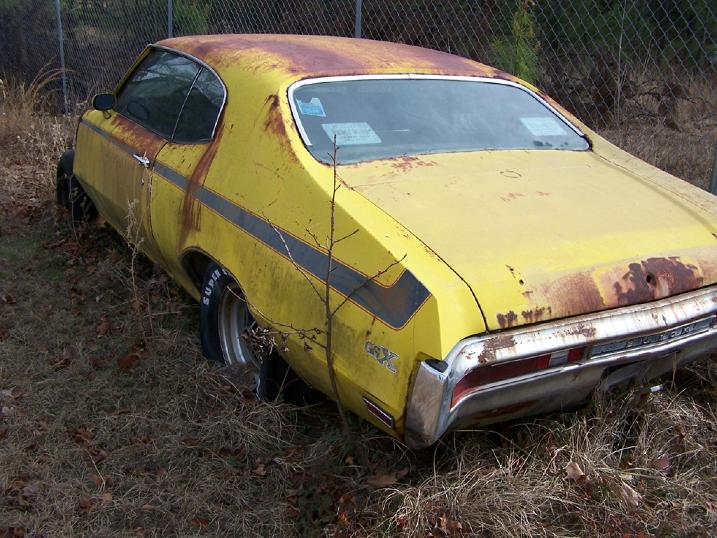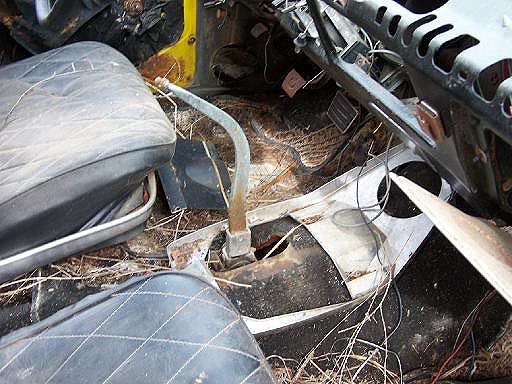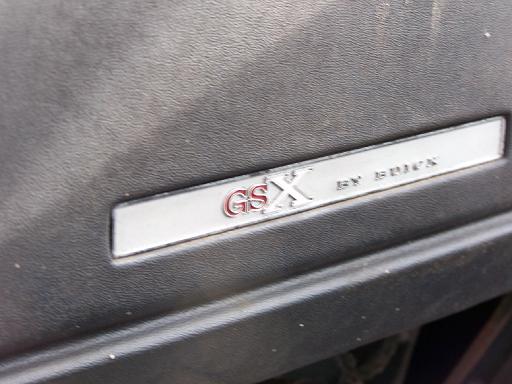 A GSX rotting away in the weeds...notice WG wheels!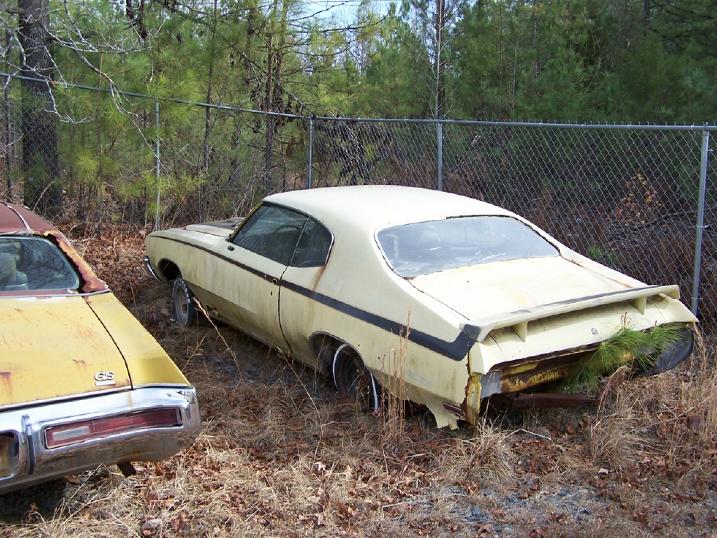 Same owner......another 70 GSX in the weeds...notice how someone towed the car using the rear frame crossmember resulting in a sharp V bend.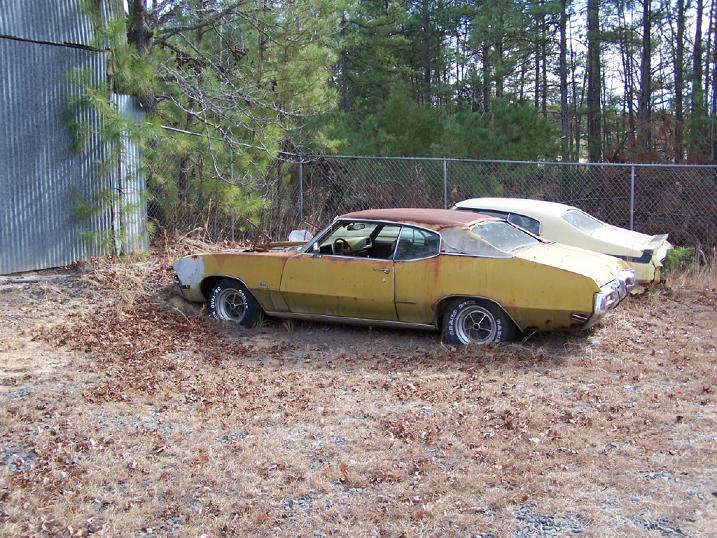 A 71 GS Stg1 coupe........next to the 70 GSX.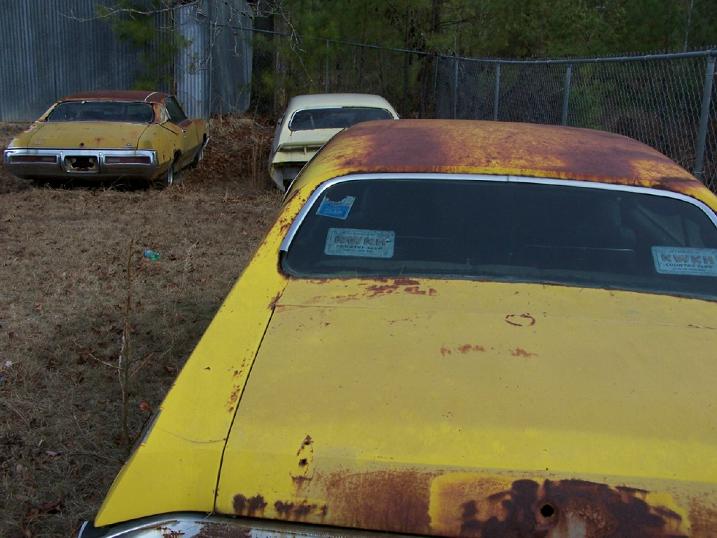 Same yard...notice same metal building in background that contains the loaded 71 Stg1 coupe.
All cars have been bought!
---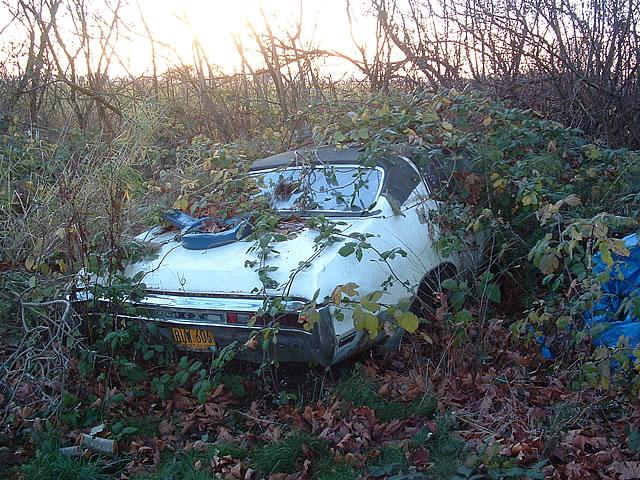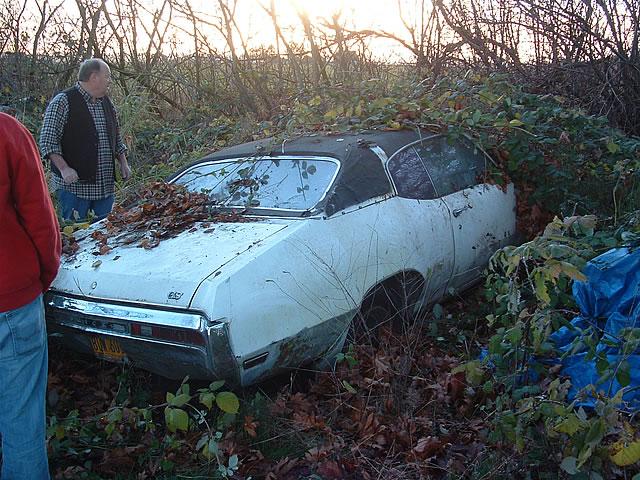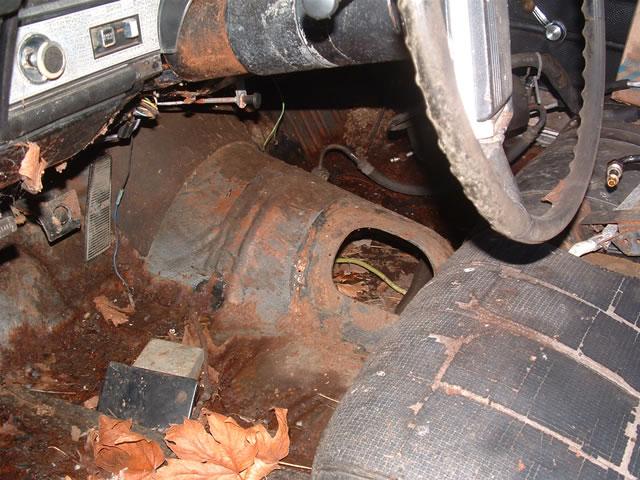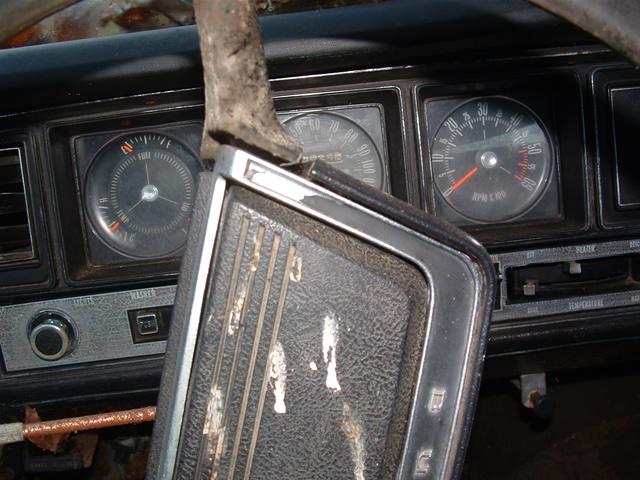 70 Stage1 4spd in Eastern Oregon. Hadn't run in at least a dozen years. The license plate tabs were dated mid 80's. We heard about the car and went down to look at it. Brought along a battery, some belts & hoses, a few odds and ends and some misc. tools. It was out in a field. Somebody towed it out there with a chain wrapped around the front bumper. So the grille was broken out and the bumper had a big wow in it where it was pulled. We put the battery in it and it would turn over but not run. Still had antifreeze in the radiator and oil on the stick. No cooling fan and the shroud was all busted up. We popped the dist. cap and filed the points with a matchbox striker and scraped the crud off the posts in the cap with my pocket knife. Nobody but me had faith it would run. By pouring some fuel in the carb and cranking for a minute it coughed and farted and finally it fired up. We had to put some air in a couple of the tires. The mufflers were rotted through. It didn't run that bad, would hardly idle, but with rpm it ran sorta decent. It smoked a little on start up but besides the blown exhaust sound it was a big thumbs up. So the maiden voyage was in that field spinning the tires through the first two gears throwing up clods of grass and cowpies. I was surprised the clutch even worked or wasn't stuck to the flywheel.
Once home, we pulled the engine/trans and put them in the garage. The car needs a complete frame off, but has to be one of the barest optioned ones around. It has many issues, but none that can't be overcome with a good amount of time, effort......and dollars.
By Dave Knutsen
---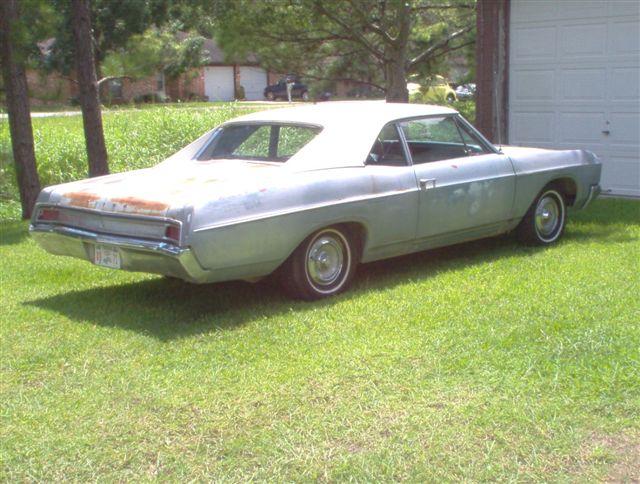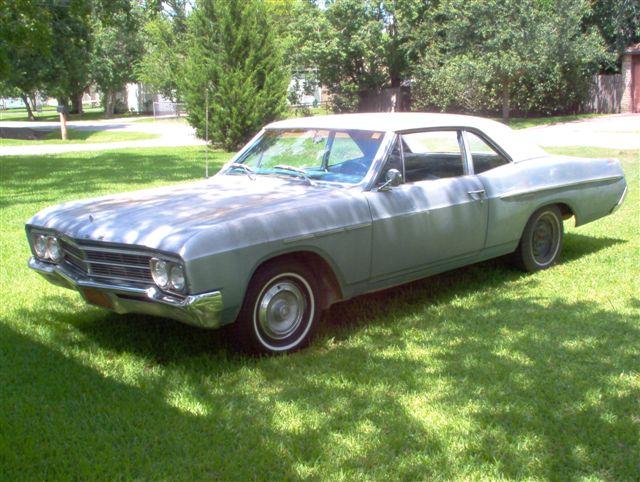 66 Special, Bought new 11/8/65. Verified by Protecto Plate, and Original Manuals.
Lady owner Left car to Care Taker in Estate. Original New Mexico Title with Documented Mileage on title when Transferred to the Care Taker.
New Mexico Title from 2nd Registered Owner, to ME Photo Copied (Both Sides) Prior to transfer to Texas title. (Unfortunately, Texas listed car as EXEMPT for Mileage)
Car had ALL original Hoses, Had to replace 1 but Kept the Original. Plug Wires Dated 3-QTR-65.
Car sustained 1 repaint, which is virtually GONE Now,
310/300, Automatic, P/S, AM Radio. Cloth Seats, ORIGINAL Carpeting under Vinyl Floor Mats
70k ORIGINAL Miles.
Unfortunately, Prior to Shipping, Seller cut the ends off the original Battery Cables, and Installed New Battery so car could be moved under own power to be Shipped.
Interestingly, car has a Beige end on the Shift Lever, which doesn't match the Blue of the rest of the interior.
Need Good Dash Pad, due to NM Heat damage, & seams in seats restiched.
I have all 4 of the Wheel covers, had a tread separate, and didn't bother to re install the Wheel cover, while on the side of the highway.

By JR Wills
---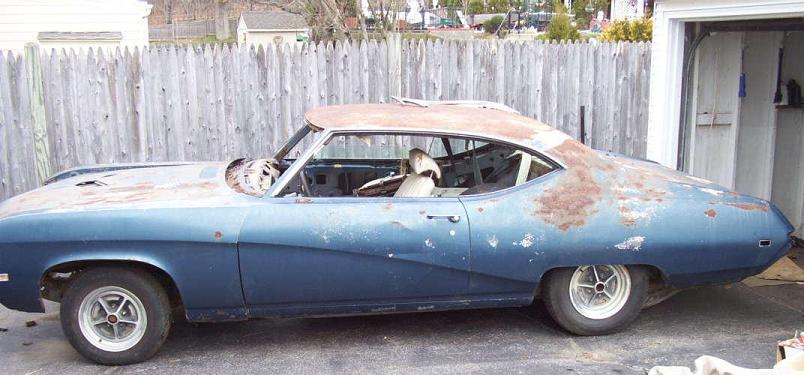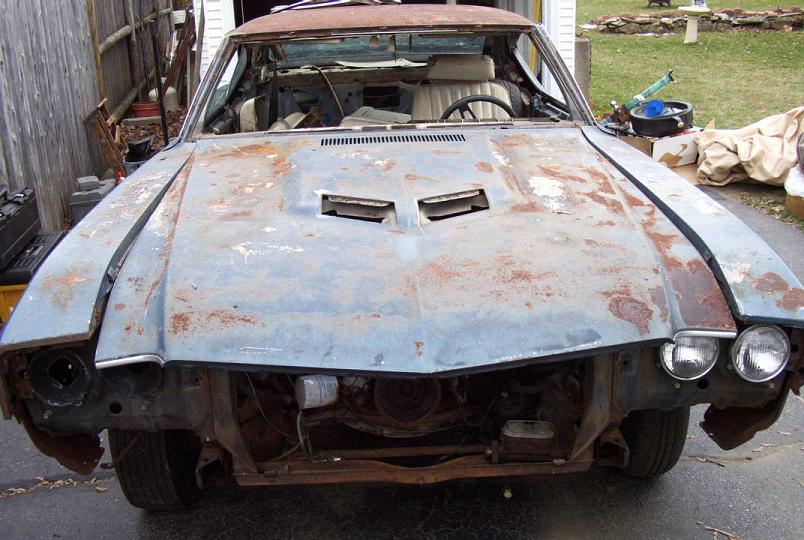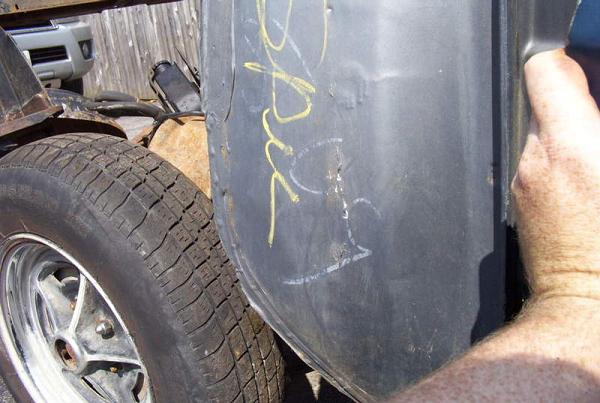 1969 Buick GS 400 4 speed SCO car. Painted Riviera (only) Deep Gray Mist. Options: pearl bucket, A/C, 4 speed, PS, power Delco drums, clock, AM/FM/ rear speaker, tinted glass, ralley rims, sport wheel, handi-mats. Sitting in a field in Texas for ~ 25 years. Has a seized SR block but original heads, intake, carb, etc. One repaint in Blue. Sold to a 'Buick chopper' in New York.
The car was in the process of being chopped up when I aquired it. Fenders, doors, hood, trans, interior, rims, etc where off of the car. Luckily, only 2% of the parts were sold. Car is currently receiving a frame off restoration.
George D
---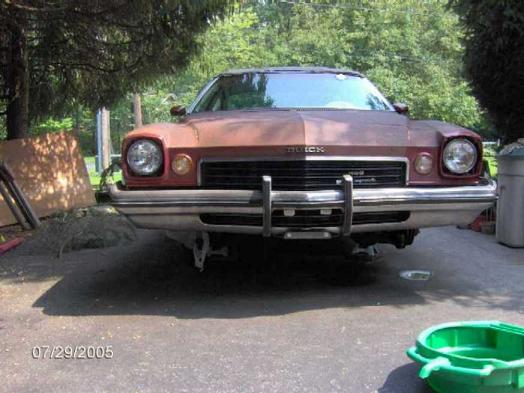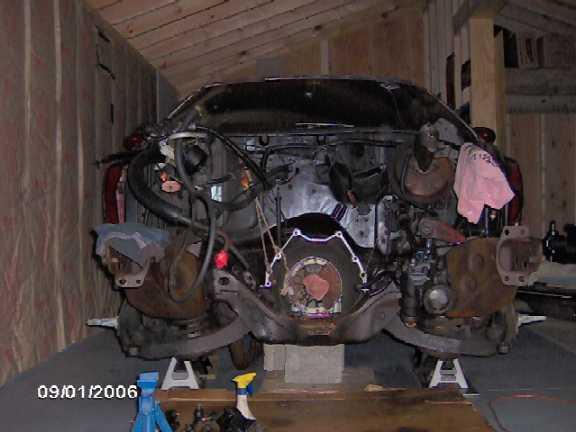 73 GS455. The car ran up until Nov. 1986, when the engine locked up. My dad parked the car behind our house, thankfully on the driveway, where it sat for 20 years! He tried to keep covers on it, but they find their way off. About 3 years ago, I decided to dig into it, and we started a restoration. Pulled the engine out and took it apart. Two of the connecting rods came apart at the bottom end. Who knows what really happened. I now have the car almost fully apart, and it is inside waiting for the spring to come so I can put fresh paint on the frame, so we can drop the engine in it. Should be running by the end of the summer! More info to follow!
---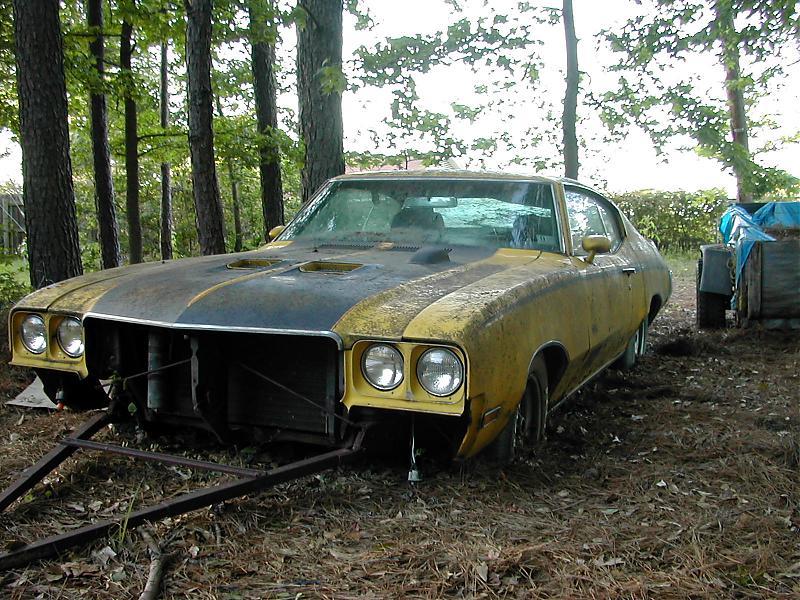 Here is a 70 GSX found in TX. Car went a full body-off restoration and is now a show winner. Notice custom front tow bar?????
---
Just found in Dec 08...will undergo a full resto
70 GSX Stg1 4 speed!



Car was a 4 speed and now has a running SF code 455 and TH400....will be changed back to original soon!


Correct trim tag showing QQ code for a 70 Saturn Yellow GSX.


Notice posi tag on differential, gas tank is missing. Car does run and drive. A 2.5 gallon gas bottle is on the plywood to supply fuel to the engine...enough to get it on and off a trailer.

Some pictures provided by the new owner as he found the car in Louisianna.
---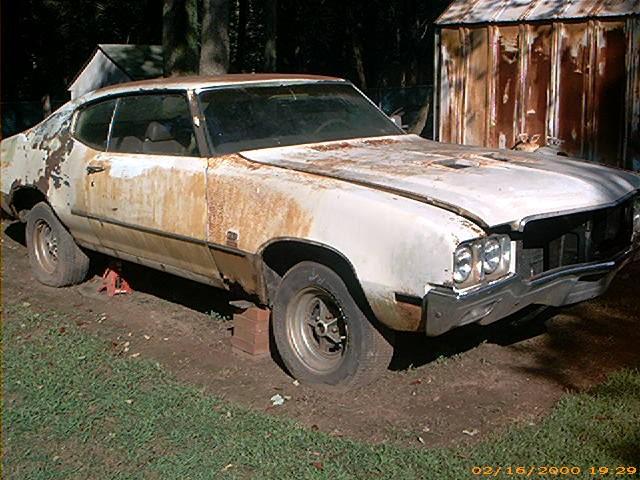 70 GS350 that I looked at about 11 years ago. I was over this guys house who was selling a 72 GS350 and had this 70 GS350 next to his shed. This guy owned the 70 GS350 for over 25years and added a BBB, headers and posi rear. I was trying to purchase the car but wanted $ 2,000 for it in this condition in 2000. This car was located in Warwick, PA. Thanks George Spadaro