New Reproduction 4 Speed Parts
by Reg Thompson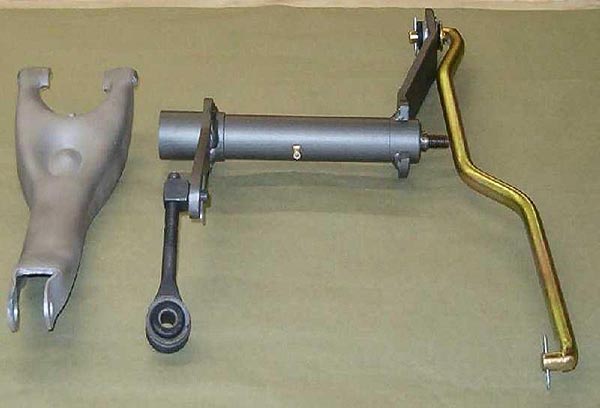 Dave Kleiner is now reproducing the entire 4-speed clutch linkages. These parts are done right for our Buicks, not offshore or "close but not so close" Chevy stuff.
It is Dave himself doing these parts .... need I say more. It is a real privilege to have him here and offering quality repro stuff.
I am posting Dave's prices as provided by him. If interested in purchasing any of these parts just call 608-763-2076.
All parts are 68-72 Buick Big Block with the exception of the lower clutch rod and clevis clutch fork which were a 69-72 release. Dave indicated that the Buick 350 4-speed setup can use this Z-bar with a 455 ball stud on engine. 350 upper clutch rod is shorter but he may get some made up if demand is there.
Prices :
Upper Clutch Rod - pedal to Z-bar $55
Yellow Cad Plated - includes pins
Lower Clutch Rod Adjuster Complete $48
Grey Phosphate - rod with bushing + nut + pin
Z-bar $99
Grey Phosphate - with frame end ball + bushing
Clutch Fork $105
Zinc Coated - correct clevis pin design
455 Engine Ball Stud $18
Dave is just nearing completion on having complete 70-72 4-speed shifter linkages, shifters and chrome handles available. These will be available soon.