Buick Skylark Radio Label Decoding
by George Nenadovich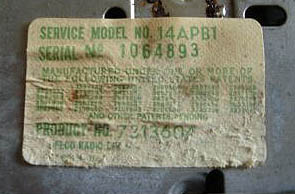 Late in the 1968 model year, Delco Radio adopted a standard coding system for GM radios which made it very simple to identify exactly what a radio is by features, make, and model year.
"Service Model Number" in the above picture is:
14APB1
By using the coding information below, the label belongs to a 71 Skylark AM pushbutton radio.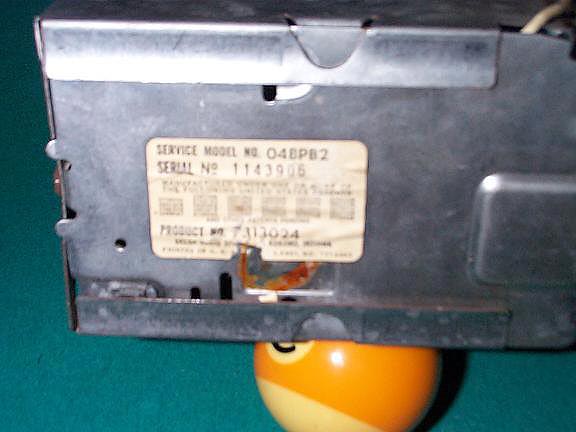 By using the coding information below, the label belongs to a 70 full size Buick AM pushbutton radio. Notice the third character is B for full size models.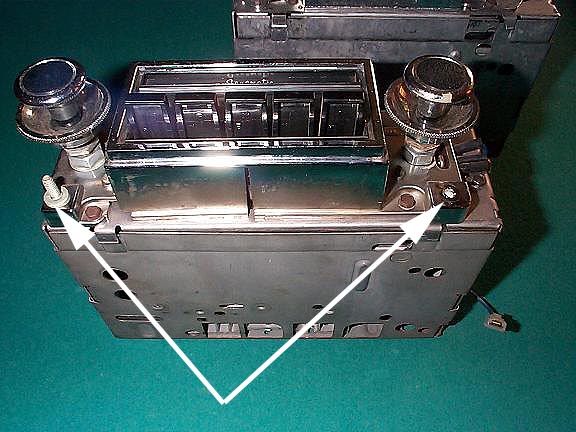 This is a Skylark radio and the arrows point to the mounting studs. The right side mounting stud is missing in this pic.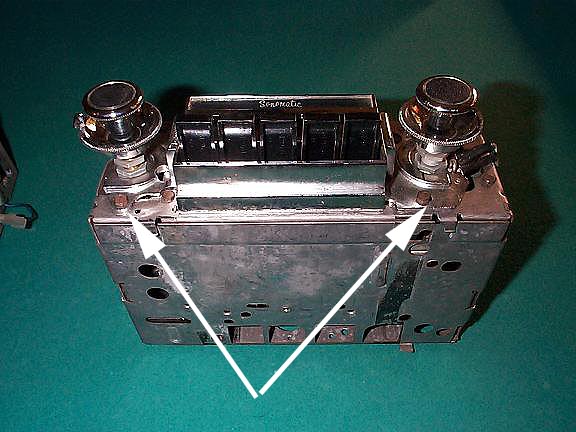 Here is a full size radio. Notice there are no mounting studs where the arrows are pointing.
---
The first digit is the model year of the radio 8=1968, 9=1969, 0=1970, 1=1971, 2=1972 3=1973, 4=1974, 5=1975.

The second digit is the car line:
1 = Chevrolet
2 = Pontiac
3 = Oldsmobile
4 = Buick
5 = Cadillac
6 = GMC

The third element is a letter which corresponds to the fisher body style the radio goes in:
A - Midsized: Tempest, Chevelle, Camaro, ChevyII, Acadian [GTO not listed by Delco =Tempest, LeMans, GT37, T-37 Pontiac radio]
B - Fullsized model: Bonneville etc.
C - More than full sized: Cadillac Fleetwood.
D - Rear control: Cadillac 75
E - Toronado, Riviera
F - Pony car: Firebird etc.
G - Grand Prix etc.
H - Subcompact: Sunbird etc.
L - Opel
T - Truck
TTC - GMC truck tilt cab
V - Corvette
X - Compact: Nova etc.
Z - Corvair etc.

The next two letters indicate the type of radio:
PB - Push Button AM
FP - AM/FM mono
FM - AM/FM~Stereo
K - Fader Control
MP - FM Multiplex adapter (second part of a two-piece radio)
TZ - Stereo Tape Player (8-track)
RV - Reverberation Amplifier
FW - AM/FM/Weather band
MW - AM/FM~Stereo/Weather band

In 1970, integrated AM and AM/FM~Stereo/8 tracks became available which added a third letter - T or "AMT" or "FMT" In 1970 there where a lot of AM - 8 track combos sold, FM stations were still a rarity in parts of the country.
Finally there may be a digit (1, 2) on the end which indicates a running change or revision number.
About the ultimate was reached in the late 1970s with the model xxBFTC1 - An AM/FM~Stereo/8 track/CB unit in three pieces - the radio unit which went in the normal dash position, a CB unit which contained the transceiver electronics, and a control head/microphone. About as much as was ever put into a Delco radio.
---
Some model numbers for Buick radios:
7302504 68 Special AM
7302514 68 Special AM/FM
7304884 68 Buick, Rivera & Special Tape Stereo
7304884A 68 Buick, Rivera & Special Tape Stereo
7304884AA 68 Buick, Rivera & Special Tape Stereo