Factory Buick 4 Bolt 455 Block
by John Fritz


Here is one of two Buick 455 blocks w/4 bolt main caps. There were two blocks cast as experimental designs for R&D.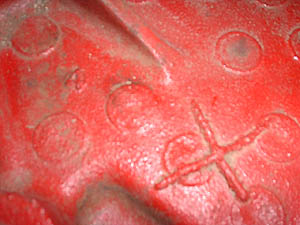 Here is a picture of the factory "X" welded on to the block designating it as an experimental design item.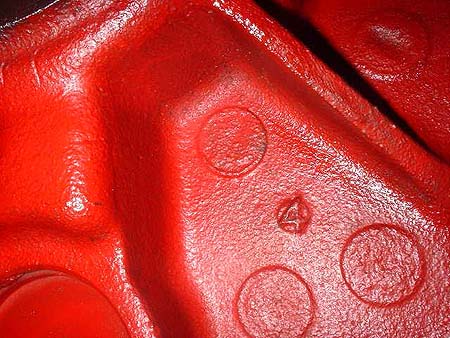 Here is a closeup of "4" indicating 4 bolt main block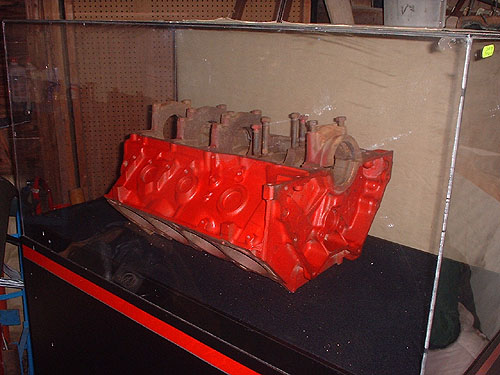 The picture said "Pro-stock block" which some of the folks at Kenne-Bell referred to it as (when I was trying to figure out "what in the world" this thing was), but it was officially called the "Stage III" by the Buick Engineers who built it!
This was at one time a complete and running motor! It was a zenith for the 1970 Buick 455 motor. When delivered to the only other person than myself, and Buick to own it, it was "Loaded for bear".
Two four sheet metal high rise intake, Stage III Tunnel port design heads, Stage III cam, 13 to 1 Compression, Gilmore oiling system, and of course the foundation to it all, the Stage III four bolt main block.

This block is one of only two known to exist. Engineers at Buick went to great lengths to strengthen any weak points in an already capable block. Obviously the four bolt mains are of great benefit but the webbing for the mains is also much thicker and has no "scalloping out" as seen in standard production blocks. The webbing in the lifter area has also been fortified to endure flex, in serious applications.

Not personally being an engineer, or having a block currently to visually compare this one to, I cannot determine other enhancements made to the Stage III.

History? I discovered this block by total luck back in the late 80's. I had advertised a fiberglass Skylark hood for $125 in a local paper, when the ad came out it said $25. Needless to say I had a flurry of calls.I had always grown up around GS's, and spoke with Richard Lassiter at the very beginning of his starting the GS Club in the early 80's, so I was more than happy to talk to any, and all, the Buick guys who called about the mispriced hood.

One of the callers, after a long talk of sharing GS information, gave me a phone number to call. He said the "Old Man" had Stage 1, Stage2, Stage 3 parts.
I probably paused too long after he said that, but I was thinking "OH NO, not another one!" Another person you think knows Buicks until they say something like "Yea my "Grand" Sport had a 454 with four bolt mains, vinyl top and was actually a real GSX". Uh Huh.

Not to be rude and say "There is no Stage III" I took down the number. I almost didn't call then I just decided to go for it, maybe he had something I needed.

This guy KNEW his stuff. When I sheepishly said I'd never heard of a Stage III, he about hung up on me for second guessing him. He blasted out every part that was on it, the Buick engineers who delivered and identified it, and topped it all off by telling me "it even had oil in it, and was ready to run".

I was standing in his shop the next morning! Getting into "The inner tomb" of his shop reminded me of the people who explored the pyramids, on a car level. I lost count of the gates, doors, twists and turns, and attention grabbing carnage of Buick parts that were scattered everywhere, leading to the Experimental Block.

Finally under the buzz of a single flickering fluorescent bulb, I stood over the block, which was on its end, tranny side up, mains toward the wall.
With a flashlight I focused on the puddle of water, from the leaking roof, that had been there for a good while. I made some small talk about the roof leak before he finally told me to "spin it around".
There they were. Factory four bolt main caps. I stirred up the water when I moved the block, as I reached down to scoop the water out, I saw a large "X" cast into the area, Buicks sign for Experimental (believe these were on the Proto-type Detroit Auto show 1970 GSX ,which gave away it's history) products. I was literally shaking, I was so excited about finding this incredibly rare, and forgotten part of Buicks "Stage Program".

Through one particular sequence of numbers on the block, it was finally identified by the Head of the Stage program as one of there original R&D pieces. He said " That is our Experimental Work Order number, You've got a very rare piece there, we only made a handful of those, take care of it." He asked me if there was anything else he could answer but since he called me, caught me off guard, and floored me with the confirmation, all I could do was say "No Sir, and Thank You!"

Today it sits safely in a special display case ,being treated with the respect it deserves. I hope one day to be able to show it at the GS Nationals. It would definitely give us something new and different to look at and think about, "What if this whole package had made it to production before the 70's gas crunch?" That's one GS I'd love to drive!

Hope everyone enjoys the info. Before anyone asks, all the scattered parts the original owner had are gone. Someone went in and cleared him out shortly after I plucked the Experimental block out. Additionally all the other parts to the block, were stolen back in the 70's, by a dishonest nephew the owner employed. Why did he miss the block? Probably the same reason I would have back then."Just another ole heavy block, nothing special".

How wrong they were!