455 Head Comparison:
Regular 455 head, Stage 1 and Stage2 heads
by George Nenadovich

Here is side by side comparison of 1970 455 heads. Both heads have the same casting number. Notice how close the Stage 1 valves and they almost touch, you can barely fit a dime between them. Heads courtesy of Dennis Wheeler.
---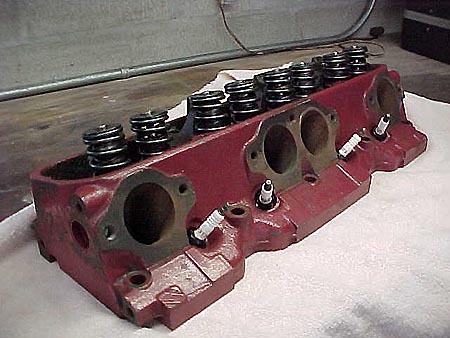 This is a factory Stage 2 head offered in 1972. About 150-200 head sets were made in March-May, 1972 before production stopped. Notice the large round exhaust ports.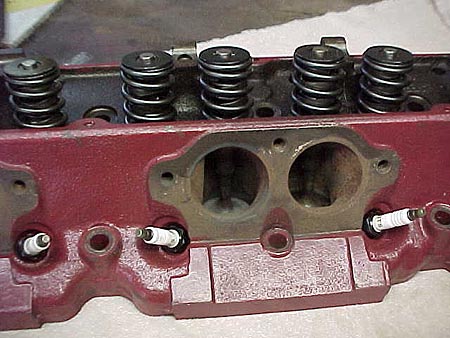 This shows the exhaust valves directly exposed to the header's side. These heads flow and required special headers. They also came with the Edelbrock B4B intake.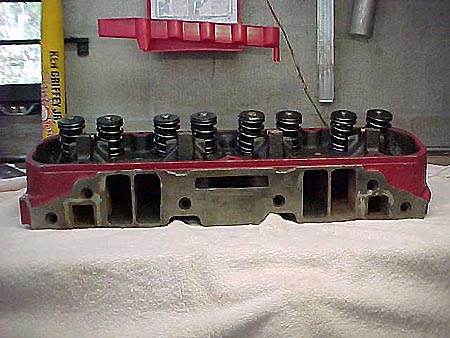 Notice the rectangular heat riser in the middle indicating 1972 vintage heads. Also large intake ports for high flow.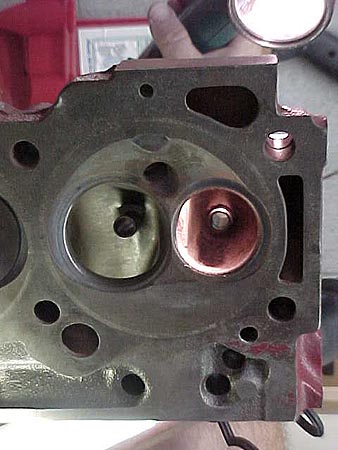 Nice picture showing large valves for Stage 2 factory cast iron heads. Factory combustion chamber size is 57 cc which is smaller than normal 455 heads.
Heads courtesy of Mike Nussell.
---
Factory Stage 2 Head Pricing
by Dave Knutsen
The casting number on the Stage 2 iron heads was 1235714. I searched
through the GM parts history catalogs that I have and came up with a few
interesting bits of Stage 2 info. They were listed in 1970 as a valid
part number after Nov. 1, of 1970. They were first listed with a price
in April of 1971, for a total of $51.97 each (Dealer Price) and at that time the part number changed to 1235841 (of course the casting number remained the same). The price changed to $58.18 (Dealer Price) shortly after the introduction. The price changed again just before they were discontinued in March of 1972 to $139.41 (Dealer Price). The January 3, 1972 issue of that catalog also lists the Suggested List of $214.50 and Suggested Trade of $171.59 prices. The names of the catalogs are "Dealer Parts & Accessories Price Schedule & History Index".
---
Cross Section Photos